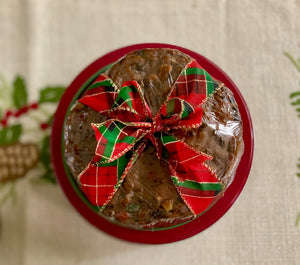 2.5lb Christmas Fruit Cake w/FREE UPS Ground Shipping in 48 States
To assure arrival of meat pies, sausage rolls, fruit cakes and pudding in time for Christmas AND New Years, your order must be received no later than midnight, Sunday, December 10th. We won't be shipping these items again until January 2nd, 2024!
Hand-mixed and baked in our own oven.  Moist, fruity, rich, new recipe. This is not the dry, heavy, fruitcake everyone passes on to someone else when they get it as a gift.  Control yourself or you'll finish this off in a day! 2.5 lb cake

Serves 12
Included Free UPS Ground Shipping to 48 states.
---